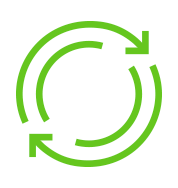 Through its sustainable development component, CAE Rive-Nord encourages businesses within its territory to achieve healthy growth while offering them the tools to maintain a full social and environmental mindset.  
Economic synergy
for the Laurentians

CAE Rive-Nord is proud to be one of the three founding members of Synergie Laurentides. This industrial symbiosis project in the Laurentians region makes it possible to identify all residual materials produced by businesses and find other companies that could benefit from using them as raw materials.
The creation of such a dynamic exchange network creates significant benefits for participating companies, including :
Visit the
Synergie Économique Laurentides
website
Une de nos réalisation :
Le marché du carbone
Une opportunité d'affaires pour nos entreprises
Le CAE Rive-Nord, accompagné par l'entreprise « Les Solutions Will », participe à un projet pilote sur la Bourse du carbone. Ce projet vise à récompenser économiquement 10 entreprises qui ont fait des efforts significatifs pour réduire leur production de gaz à effet de serre (GES).
L'objectif est d'offrir aux petits émetteurs de monnayer leurs réductions de GES en validant et comptabilisant leurs efforts pour ensuite les vendre sur le marché volontaire du carbone.
If you have any questions or wish to speak to a resource person at CAE Rive-Nord, please contact us at :
T 450 304-1911